Markinch Church
Illustrated reconstruction (12th Century)
An impressive ashlar-faced Norman-Scottish tower with its distinct Romanesque architecture are all that remains of the 12th century church at Markinch in Fife. The rest of the church is a more modern 19th century building with evidence inside of alterations carried out to the nave between the 12th and 19th centuries. But look more closely at the recycled stonework of the modern church, and there are one or two clues to the presence of an even earlier Anglo-Saxon church.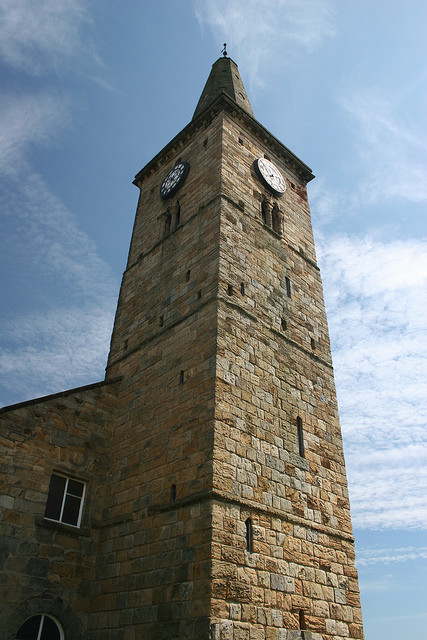 My illustrated interpretation shows Markinch church under construction in the 1100s. The church was constructed with very fine-quality masonry, which would have been top-of-the-range in the 12th century, and no doubt expensive too. It would have been built by the finest medieval stonemasons who would have lived and worked alongside carpenters and other skilled craftsmen close to the building site during its years of construction.
The town of Markinch has since built up around the church. Originally, there would have been water or marshy ground surrounding the hill or mound on which the church was built on. This is suggested in the background of my illustration.
I am grateful to Historic Scotland, Markinch Heritage Group, Bruce Manson and Richard Fawcett for their help and advice with this illustration.
Artist: Bob Marshall
Client: Fife Coast and Countryside Trust
Image Copyright © Fife Coast and Countryside Trust 2015
Artwork production time: 133 hours (3 - 4 weeks approx)