Reliquary
3D Model Reconstruction
I had a go at making this 3D reconstruction model which is based on the Breccbennach, or at least it is as close as I could get to a visual reconstruction of it using photographic references and a description of its approximate measurements.
This portable reliquary, known as the Monymusk Reliquary or Breccbennach, is one of Scotland's greatest treasures and is kept in the care of the National Museum of Scotland. The small casket (measuring 112 mm x 51 mm x 89 mm) is made from wood and bronze and covered in a silver and copper alloy. It dates from the middle of the 8th century and was probably crafted by Ionan monks who used a fusion of Anglo-Saxon metalworking techniques with Pictish and Celtic imagery. These are interwoven animals which are stipple-punched into the silver plates and is typical of Pictish decorative art.
The reliquary has long been thought by many to have contained Holy relics of St. Columba - the Irish abbot and missionary credited with spreading Christianity in what is today Scotland. The relics of St Columba were removed from Iona in the ninth century so that they may not fall into the hands of Viking raiders [1].
William I (the Lion) of Scotland who reigned from 1165 to 1214, gave the Breccbennach to the Monks of Arbroath before 1211 on condition that they bore the reliquary in battle. It was carried into battle in 1314 by Robert the Bruce's army at the Battle of Bannockburn for it was believed that as the outcome of battles was decided by God, the Saint would intercede with God on behalf of the Scots.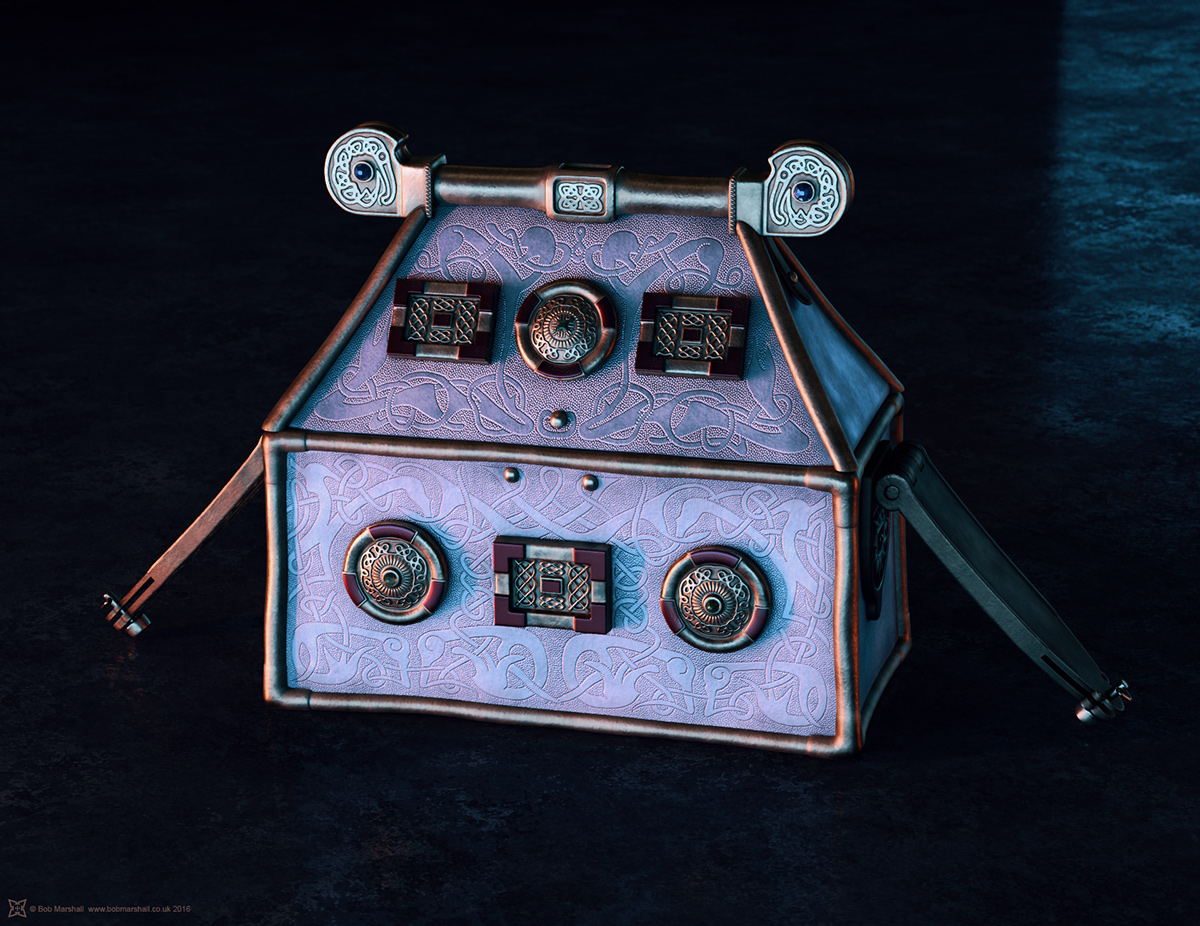 I cannot explain what inspired me to create this reconstruction but it has certainly captured my imagination. Ever since I first read about the Monymusk Reliquary, I've been a bit spell-bound by it. It has something of a magical and a mysterious property and that probably has a lot to do with its religious origins. But one thing is for sure, the reliquary is simply a beautiful medieval artefact which I have very much enjoyed modelling.
[1] The claim that the Reliquary is the Breccbennach of St. Columba is disputed by some scholars. Source: The Monymusk Reliquary: the Breccbennach of St Columba? D. Caldwell.
Artist: Bob Marshall
Image Copyright © Bob Marshall 2016
Artwork production time: 57 hours.
Tools used: Blender 3D, Cycles, Adobe Photoshop